Issue 1, 1st November 1995: SPORTING ROUNDUP

Bringing you the best of British sporting news.
By Charles Hirst.
---
Football, Rugby, Cricket, Motor Racing, Others, Top Sporting Links across the Web.
---
Football
Match Reports
Fixtures and Results
Premiership League Table
Latest News
---
Match Reports
Bolton deny Arsenal(31/10/95)
Rangers get thumped by Juventus wizards(18/10/95)

---
Bolton 1 Arsenal 0
Bruce Rioch was given a warm welcome back to Burnden Park last night, but his classy Arsenal outfit could not take the heat out of a passionate Bolton display.
Arsenal failed to make the most out of their many scoring opportunities, wasting good positions with poor finishing. Ian Wright might have opened the scoring in the first minute but dragged his shot wide.
The reds poured forward and looked certain to score before long, but it was not to be. It was Bolton who made the first breakthrough and it proved enough to win them the match. McGinlay found space between Bould and Keown and received Thompson's pass well, enabling him to fire home to silence Arsenal's guns. It was the first goal conceded by Arsenal in five games.
Arsenal began the second half in much the same way as they had the first. Glenn Helder particularly catching the eye as they ran at the Bolton defence. Bolton held firm against the onslaught scrambling the ball away as Arsenals chances came and went.
The introduction of David Platt, the England captain, with 12 minutes remaining, could not bring Arsenal the luck that they deserved. Bolton bravely locked out the advancing red shirts and held on for their second win of the season. The result raises them above Coventry, to third from bottom in the table.
Rangers get thumped by Italian wizards
Juventus 4 Glasgow Rangers 1
Glasgow Rangers were taken apart last night in Turin by a rampant Juventus team.Rangers looked lost from the opening seconds as Juve turned on a pulsating performance which once again outlined the bleak reality of just how far behind the British game is from its continental rivals. Within the first 45 seconds Andy Goram was forced into a reflex double save which set the tone for the night.
By the 14th minute Juve could have been several goals up, when the inevitable strike finally came. Ravanelli drilled a crisp shot from a free kick just outside the area, low into the bottom left of the Rangers goal. A slight deflection on the way made sure Goram would have no chance to reach it.
Within a minute Juventus had gone two up as the Rangers defence collapsed. Ravanelli picked out Conte at the back post, standing unmarked among a clutch of blue shirts. Conte made no mistake in dispensing his gift. Worse was to come for the Scottish champions as Juve set the field alight with their deft touches and relentless pressure. From a free kick out wide to the left of the area, Del Piero curled in a magnificent shot from a tight angle, 30 meters from goal.
Rangers were dead and buried with only twenty two minutes of the game gone. They grafted hard , but their artisan perfomance was never going to make an impression on the wizardry of the Italian masters. The midfield domination of the home side was never in question. Their movement and distribution was a lesson to all. Rangers sorely missed Gascoigne and Laudrup to provide creative movement in midfield. Only after Ravanelli had helped himself to his second of the night and Juve's fourth, were Rangers allowed the one moment of consolation on a night they will want to forget in a hurry. It came in the 77th minute when Richard Gough took charge of a run by Olensko that was going nowhere, to thump home the ball from 30 yards, via a deflection.
This night though, belonged to the Italian princes.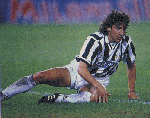 Del Piero put in a scintillating performance...

Blackburn completed a disasterous night in Europe for British clubs, losing 1-0 away to Legia Warsaw. This was their third straight defeat in their European campaign, leaving them with only a mathematical chance of qualifying for the knock-out stages.
---
Fixtures and Results
UEFA Cup Results
Tuesday 31st October
PSV Eindenhoven 3 Leeds 0
(PSV win 8-3 on aggregate)
Liverpool 0 Brondby 1
(Bronby win 1-0 on aggregate)
Notts Forest 0 Auxerre 0
(Forest win 1-0 on aggregate)

---
FA Carling Premiership Results

Monday 6th November

Notts Forest 4 Wimbledon 1 Sunday 5th November

Everton 1 Blackburn 0


Saturday 4th November

Arsenal 1 Man Utd 0
Chelsea 0 Sheff Wed 0
Coventry 2 Tottenham 3
Man City 1 Bolton 0
Middlesbrough 1 Leeds 1
Newcastle 2 Liverpool 0
Southampton 2 QPR 0
Weast Ham 1 Aston Villa 4
Monday 30th October

Bolton 1 Arsenal 0

Sunday 29th October

Tottenham 1 Newcastle 1

Saturday 28th October

Aston Villa 1 Everton 0
Blackburn 3 Chelsea 0
Leeds Utd 3 Coventry 1
Liverpool 6 Manchester City 0
Man Utd 2 Middlesbrough 0
QPR 1 Nottm Forest 1
Sheffield Wed 0 West Ham 1
Wimbledon 0 Southampton 2


English Coca Cola Cup 3rd Round Results

Wednesday 25th October

Aston Villa 2 Stockport 0
Coventry 3 Tottenham 2
C Palace 2 Middlesbrough 2
Derby 0 Leeds 1
Liverpool 4 Man City 0
Millwall 0 Sheff Wed 2
Norwich 0 Bradford 0
QPR 2 York 1
Southampton 2 West Ham 1
Stoke 0 Newcastle 4
Wolves 0 Charlton 0


Tuesday 24th October

Barnsley 0 Arsenal 3
Birmingham 1 Tranmere 1
Bolton 0 Leicester 0
Reading 0 Bury 2 (match abandoned, waterlogged pitch)
Watford 1 Blackburn 2

---
FA Carling Premiership League Table


Newcastle       12   6    0    0    17   3    4    1    1    12   6    31
Man Utd         12   5    1    0    13   4    3    1    2    10   8    26
Arsenal         12   4    2    0    10   4    3    1    1    6    2    24
Liverpool       12   5    1    0    16   2    2    1    3    9    8    23
Aston Villa     12   4    1    1    8    3    3    1    2    9    6    23
Middlesbrough   12   4    2    0    8    2    2    2    2    4    5    22
Nottm Forest    11   3    2    0    10   5    2    4    0    9    7    21
Leeds           12   4    0    2    9    7    2    3    1    9    7    21
Tottenham       11   2    1    3    7    8    3    3    0    12   8    19
Chelsea         12   2    3    1    7    6    2    1    3    4    8    16
Blackburn       12   4    1    1    13   5    0    1    5    3    11   14
West Ham        12   1    2    3    7    12   2    2    2    4    4    13
Everton         12   2    1    3    7    9    1    2    3    6    7    12
Sheff Wed       12   1    1    4    3    8    2    2    2    6    5    12
Southamton      12   2    2    2    8    8    1    1    4    5    12   12
QPR             12   1    1    4    6    13   2    0    4    4    6    10
Wimbledon       11   2    1    3    9    11   1    0    4    6    14   10
Bolton          12   2    2    2    6    7    0    0    6    6    16   8
Coventry        12   1    2    3    5    9    0    2    4    5    15   7
Man City        12   1    2    3    2    5    0    0    6    2    16   5


FA Carling Premiership Leading Goalscorers



                          L    F    C    E    O    T
Ferdinand (Newcastle)     14   0    3    0    0    17
Shearer (Blackburn)       10   0    5    0    0    15
Fowler (Liverpool)        10   0    2    0    0    12
Sheringham (Tottenham)    9    0    3    0    0    12
Yeboah (Leeds)            8    0    0    3    0    0
Wright (Arsenal)          7    0    4    0    0    11
Scholes (Man Utd)         6    0    2    1    0    9
Holdsworth (Wimbledon)    4    0    4    0    0    8
Dichio (QPR)              6    0    1    0    0    7
Yorke (Aston Villa)       4    0    3    0    0    7

L=League, F=FA Cup, C=Coca Cola Cup,
E=European, O=Other, T=Total.


Return to contents
---
Latest News

Ince's Future to be Decided Pual Ince, the Inter Milan midfielder will know today whether he is to stay with the Italian giants or return home after just four months with the club. Arsenal are reputed to have lodged a bid of 6.5 million pounds in an effort to repatriate the England international.

Ince has struggled to impress in Italy where his physical style is regarded as unskillful. The deadline for Italian transfers expires today, hence the urgency of the Arsenal bid. The Inter Chairman has admitted that he may have to let Ince go in order to fund his search for a striker.

Arsenal are also purported to be interested in signing Roberto Mancini of Sampdoria. The deal may be finalised when Sampdoria play Arsenal on Thursday night (9/11/95), in a testimonial match for Alan Smith.

Shearer For Newcastle(

Newcastle are said to be in the hunt for England's number one striker Alan Shearer. A 10 million pound price tag has not scared off the Magpies boss Kevin Keegan, who has plenty off cash to spare after record marketing proffits for the club and also the recent sell of Rule Fox to Spurs for 4.3 million.

Shearer has a spoken agreement that he can leave Blackburn if he feels unhappy with the team setup. Certainly he has not been enjoying Blackburn's recent slump in form. Even though he is still regularly slotting home the goals, the general team performance is not showing the sort of ambition that would keep him at the club.

Liverpool draw Newcastle in 4th Round Coca-Cola cup.

Liverpool have drawn Newcastle at home for a giant clash in the fourth round of the Coca-Cola cup. Arguably the two best teams in the country will meet at Anfield for what will be billed as the biggest domestic game of the season so far.

Other fascinating ties for the next round of the Coca-Cola cup include a showdown between Aston Villa and QPR, and a repeat of the 1993 final as Arsenal take on Sheff Wednesday. All eyes will be on the contest between top strikers Yeboah and Shearer when Blackburn travel to Leeds, in what will be another tough clash.

Coca-Cola Cup 4th round draw: Aston Villa v QPR, Arsenal v Sheff Wednesday, Wolves or Charlton v Coventry, Reading or Bury v Southampton, Norwich or Bradford v Bolton or Leicester, Leeds v Blackburn, Liverpool v Newcastle, Crystal Palace or Middlesbrough v Birmingham or Tranmere.

Juninho's debut may be delayed

Juninho's debut for Middlesbrough, may be delayed because of difficulties in arranging a work permit. The Brazilian player of the year was expected to make his first appearance for Middlesbrough this Saturday against Man Utd, at Old Trafford. Bryan Robson, the Middlesbrough manager, may delay his first game until Boro meet Leeds next week.

There have been rumours that Arsenal are interested in the unsettled Inter Milan star, Paul Ince. Ince has struggled to adjust to the Italian game since his big money transfer in the summer from Man Utd.
---
Rugby
Rugby League World Cup Latest

---
Australia prove worthy Champions.

Australia 16 England 8

Australia wrestled the World Cup from England's grasp with a championship winning performance. England went into the encounter as favourites, having already beaten the kangaroos in the early stages of the competition. However Australia lived up to their reputation of rising to the big occasions by disposing of England in the final.

The Aussies outclassed the home team with better distribution and ball handling in all areas of the park. Tries came from Wishart and Brasher for Australia and the England center Paul Newlove pulled one back early in the second half.

The game was not without controversy though as Martin Offiah was deemed to have gone out of play before setting up a would-be try for England. Video replay suggests that he released the ball before being forced out.

Prince William presented the trophy to the Aussie skipper, Brad Fittler. Man of the Match was Australia's Andrew Johns, who finished the leading points scorer of the tournament.

Semi-final Round Up

The Halifax Centenary Rugby League World Cup Final is to be played this Saturday(28/10/95) between the holders Australia and the last runners up, England. No surprises about this fixture then. However, both teams were given a close running in their semi-final matches between New Zealand and Wales respectively.

The Kiwis saw a last second drop goal effort drift wide of the uprights, while the scores were level. Unable to break the deadlock the Southern hemisphere rivals were forced into extra time, where Australia eventually prevailed. It was not the convincing victory that Australia had anticipated though.

In England's semi against Wales, the Welsh put it a brave fight but the English running was too strong. Neither team could make any real headway, until eventually the strength of Paul Newlove took him over for Englands first try. Bobby Goulding set up Martin Offiah with two controversial scores after the break, to take England clear of Wales. Both were instigated from the boot of Goulding, as he chipped over the top of the Welsh defence, towards Offiah on the left wing. Offiah looked conspicuously off side for the first try, and appeared not to ground the ball properly for the second.

The final should prove to be another tight contest between Australia and England, who played each other in the opening round of the contest, England won that game 20-16. With Offiah back from his earlier injury England will be favourites to take the cup.
---
Latest scores from Englands tour of South Africa
Malcolm's Action Gets Disapproval
Ramprakash Stakes Early Claim for England Place

---
Scoreboard

England vs Oppenheimers XI


ENGLAND
M Atherton b Page                     34
A Stewart  retd out                   74
M Ramprakash lbw b Williams           48
J Crawley c Oppenheimer b Benkenstein 14
R Smith c Teeger b Williams           12
M Watkinson not out                   15
  Extras                              10
  Total                              242 



OPPENHEIMERS XI
M Yachad b Malcom                      2
R pienaar lbw b Illingworth           25
G Toyana c Watkinson b Illingworth    28
D Benkenstein b Gough                  1
H Gibbs c Stewart b Illingworth        0
H Page c Russell b Illingworth        22
S Elworthy run out                     6
J Teeger c&b Watkinson                 8
J Oppenheimer not out                 21
H Williams b Watkinson                13
A Kourie c Gough b Illingworth         1
  Extras                               3
  Total                              130



Result: England bt Oppenheimers XI by 112 runs.
        England v Invitation XI match drawn.


---
Malcolm's Action Brings Disapproval

England ace Devon Malcolm has been given his last chance to adjust his bowling action by the England management. Ray Illingworth has become increasingly disenchanted with the strike bowler for failing to heed the instructions of the coaching staff.

Peter Lever, England's guru bowling coach, has been working hard with Malcolm to develop his action. Lever believes the adjustments would force the batsmen to play the ball more often. But Malcolm has given no signs of responding to managements wishes, preferring to revert to his old style action.

The split of opinion virtually rules Malcolm out of any chances of claiming a Test place for Pretoria. Malcolm has called for more support from the management, but they don't look likely to give way.

Ramprakash Stakes Claim For England Place

Mark Ramprakash made an early claim for the England number 3 spot, lashing a silky 48 against the diamond billionaire, Oppenheimer's XI. John Crawley, the other main contender for the spot, could only manage 14 in this friendly encounter.

Ramprakash has struggled in recent seasons to make the step up from county level to International consistency. His most recent involvement in the England set up was last summer against the West Indies, where he failed to score in either innings of the fourth test.

Ramprakash must prove to the selectors that he can perform at the highest level, he must show that he has the ability to put together a big innings, rather than falling short in the 20's and 30's, which is too often the case.

Richard Illingworth also had a fine start to his tour, with bowling figures of 5 for 48, Watkinson took 2 for 24. Sterner tests are to come.
---
Hill Under Pressure

Damon Hill has been shrugging off suggestions that his seat at Williams next season is up for grabs. It is thought that Frank Williams may be attempting to make a bid for Hill's contract to be bought out.

Damon Hill has put in a series of poor performances, culminating in his crash in the recent Japanese Grand Prix. To add to Hill's misery he has seen arch rival, Michael Schumacher clinch his second Championship title and equal Nigel Mansell's record of nine victories in a season, with the Australian GP still to come. Also he has been consistently out performed lately by his number two driver, David Coulthard.

Hill appears to be losing support from within his own camp as Patrick Head refused to confirm that he would have the number one seat next season. Rumours are abound that Williams have been in negotiation with the Benneton team, to swap Hill for Gerhard Berger, who will race for them next season. Heinz-Harold Frentzen has also been linked with the Williams seat.
---
Thousands mourn Red Rum

Red Rum, the greatest ever steeple chaser died yesterday at the grand old age of 30(a centurian in human years). He was put down after suddenly losing his health. Red Rum was buried under the finish line at Aintree, home of the Grand National, which Rummy won three times and was runner up twice(all in consecutive years between 1973-77).

Red Rum shot to fame after beating the long time leader, Crisp, on the line in the 1973 National. From then he was always a sure bet, and became a racing institution in the UK. It is a tribute to the horse that he has been buried under the finish line of the famous course and some have even talked of renaming the race after him. Whatever, all future winners will cross the line over the greatest ever champion for as long as the race is ran at Aintree.

Thousands are expected to turn up today at Aintree to pay their last respects to the great horse. Farewell Rummy!
---
Try some of these links for the best sporting action around the Web.

Soccer Virtual Library: has links to every football page on the web.
Coopers &amp Lybrand Ratings of Test Cricketers
Formula One Grand Prix Page
1996 Olympics Home Page
WWW Rugby Server
The Electronic Telegraph

---
General Web Searching: WebCrawler, Yahoo, Lycos, InfoSeek.
---
Back to top.
Copyright (c) ESL 1995.